Pressing
Our range of 100 to 400 tonne CNC press breaks serviced by an overhead gantry allows for accurate folding of light, medium and heavy plate. A full range of tooling, further extends our sheet processing capabilities into carbon, stainless and aluminium folded sheet and plate.
Specifications
WIDTH
THROAT
BETWEEN ARMS
400 TONNE (16MM@90)
4100
400
3550
110 TONNE
3100
410
2600
100 TONNE
3100
410
2600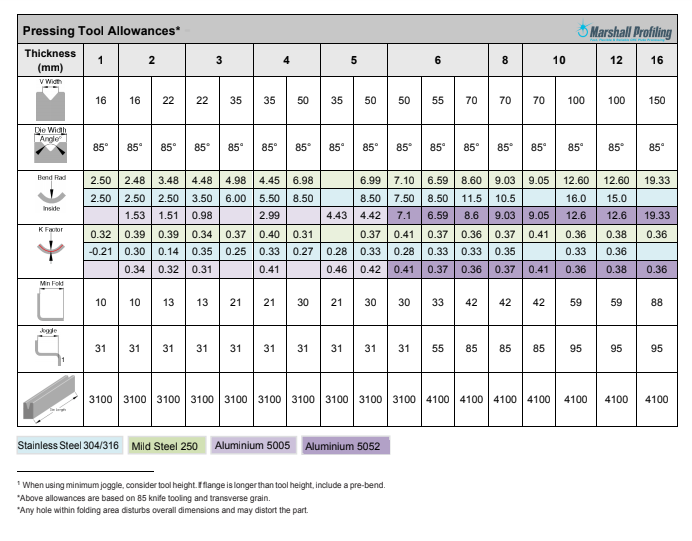 Tooling Cross Sections
100 & 110 Tonne Press Brakes
---
---
400 Tonne Press Brake
---
Large Folded Sections
Capability and expertise to fold long sections with multiple bends.
Small Stainless Pressing
Accuracy and protective material handling procedures mean even small non-ferrous parts are no problem.
Heavy Plate Pressing
Our 400 tonne press brake and over head gantry can easily fold materials up 16mm thick.

Complete Plate Profiling Service

Fast
Service built around consistently providing the shortest lead times in the market and delivering express orders when our clients need it the most.

Flexible
Urgent orders, special projects or a unique challenge, we provide the agility and flexibility to respond to our clients unique demands on a person to person basis.

Reliable
We invest in systems, process and people with the one goal of providing reliability of service to our customers. We are dedicated to delivering on our promises.

One-Stop Shop
Laser, Plasma and Gas cutting and a full range of secondary processes to press, roll, machine, guillotine, weld and surface-treat your parts, in one order.